Heat resisting bushing feeders (further - feeders), are intended for reception coarse fibre, thin and superthin glass staple fibres from rocks at temperature up to 1350 °Ñ.
Feeders correspond to requirements of specifications and the working drawings approved when due hereunder.
Key parameters and the sizes
With one-piece a bushing plate:
Bushing plate, consisting of a plate and welded wings.
Feeders by quantity bushing correspond to the requirements, presented table, and in the sizes - resulted on figures 1 and 2.
Characteristics of feeders
Table
Type of a feeder
Quantity of forming apertures, (bushing), pieces
Diameter of forming apertures (bushing), mm
Value
Extreme deviation
For thin fibres
1-5
4 - 10
±0,5
For superthin fibres
220-350
1,8 - 2,5
±0,05
For coarse fibres
12-100
3,0 - 5,0
±0,1
Figure 1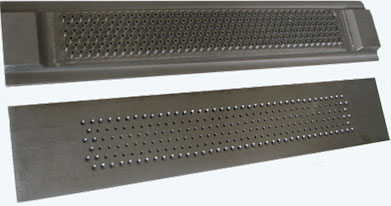 In coordination with the Customer manufacturing feeders of other sizes, and also feeders without apertures with processing apertures at the Customer is supposed.
3.1 The bushing plate of a feeder is made of the heat resisting alloy providing following the operational characteristics:
Temperature of bushing weeding not less + 1300 °Ñ
Term of operation not less than 500 hours
The chemical compound, structure and heat resisting properties of an alloy are guaranteed by manufacturing techniques.
3.2 Wings and a current contact jaws of feeder are made from high-alloy steel of mark 12Õ18Í9Ò in accordance with ÃÎÑÒ 5632.
COST:
In coordination with the Customer feeders without current contact jaws or preparations for manufacturing feeders (heat resisting plates in the size can be delivered: 290õ90õ12 mm and 420õ80õ12 mm).