A LINE ON MANUFACTURE SOFT HEAT-INSULATED BASALT SLABS
Soft heat-insalted basalt slabs are made of canvases from basalt staple (thin or superthin) fibres and special binding. They are a perspective material for thermal protection in housing and industrial construction, metallurgy, mechanical engineering, household and industrial technics. Plates are ecologically harmless.
Slabs on the basis of BSTF possess high flexibility, vibration strength, easily give a cutting in a dry condition, not fill the air with dust. Plates on the basis of thin staple fibres are cheaper.
The way of manufacture consists in preparation binding, formation of a fibrous carpet, its impregnation binding, drying and cutting a carpet on the set sizes.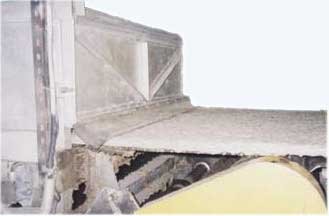 Use composite binding on a polyvinylacetate basis will allow to receive scale of materials - cardboards and the slabs possessing elastic properties. Materials can be used for isolation flat and curved surfaces in various industries, construction. Except for polyvinylacetate emulsion at this technology can be used other kinds binding, both organic and an inorganic origin.
The basic characteristics of plant
Table
Parameters
Line a slab heater and a cardboard from BSTF on synthetic binding
Productivity, m3/year
2500
The characteristic of received production:
- Density, kg/m3
- Heat conductivity, W/m•Ê, at 25 °C
- Temperature of application, °Ñ
- Thickness, mm
- Length, mm
- Width, mm

35-80
0,035
500
5-40
At will of the customer
900
Dimensions of a line, m
22õ5õ4,5
The charge of natural gas, m3/m3
2,0
Electric power, êW/m3
90
The attendants, person/shift
3
THE LIST OF THE EQUIPMENT OF PLANT:
Platform technological, unit of preparation binding, unit spill, unit vacuumize, the unit of gathering and swapping of a filtrate, the unit of drying a slab heater, the unit of capter of a slab heater, an electric equipment and control panels, heat-generator, driving station, system of selection of the heat-carrier, smoke suckers, a drive of the conveyor. For the organization of manufacture the center has an opportunity to offer:
The design documentation
Performance of design works on a binding of a line
The assembling
Balancing and commissioning works
Transfer normative and technical, technological and operation documentation, training of experts.
COST:
Cost lines for manufacture soft heat-insalted basalt slabs depend on productivity and a degree of automation.