A LINE FOR MANUFACTURE OF A CARDBOARD AND A HEATER SLAB ON CLAYEY BINDING
On the basis of BSTF and clayey binding are received sheet materials - heat-insulated cardboard HC-1 and heat-sound-insulated cardboard HSC-6 by thickness from 2 up to 12 mm consisting of a basalt superthin fibre in diameter up to 3,0 microns and clayey binding - 12-20 %. As the last are used bentonitic clay.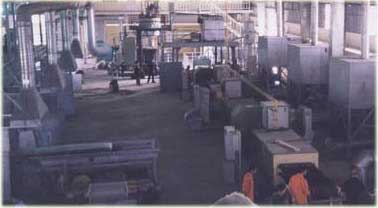 Technological process consists of three basic stages: preparations of clay-fibrous hydroweight, formation of a continuous carpet from hydroweight by means of vacuum-filtration, drying in a conveyor dryer. The material after drying is cut out on sheets of the set sizes and is packed. The characteristics of a material is resulted.
THE BASIC CHARACTERISTICS OF PLANT
Table
Productivity, m3/year
3500
7000
2500-5000
The characteristic of received production:
- Density, kg/m3, no more
- Heat conductivity, W/m•Ê, at 25 °Ñ, Âò/ìÊ
- Temperature of application, °Ñ
- Thickness, mm
- Length, mm
- Width, mm

140-250
0,048

900
5-40
800-1200
850

140-250
0,048

900
5-50
1200
1000

100-250
0,046

900
14-100
1000
1000
Dimensions of a line, m
36õ12õ8
36õ14õ9
îò 24õ12õ8 äî 30õ12õ8
The charge of natural gas, m3/m3
160
160
140
Electric power, êW/m3
100
100
90
The attendants, person/shift
4
4
4-8
THE LIST OF THE EQUIPMENT OF PLANT:
The device with a mixer (reactor) for preparation of clay suspension, capacity for filtering, a reactor for preparation of a solution polyacrylamide, pumps, a hot-water generator, a reactor for preparation waterproofing agent, repulper, batcher, capacity for gathering a filtrate, plant for formation of plates, capacities, a receiver, the unit of drying, units of preparation of the heat-carrier, smoke suckers, a drive of the conveyor.
For the organization of manufacture the center has an opportunity to offer:
The design documentation
Performance of design works on a binding of a line
The assembling
Balancing and commissioning works
Transfer normative and technical, technological and operation documentation, training of experts.
COST:
Cost of plants for manufacture of a cardboard depends on productivity and a degree of automation.